December 17th 2011 was inaugurated the small wind turbine on the cruise terminal of Porto Corsini in Ravenna. The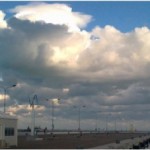 implementation of the plant – 1.5 KW of power – has been made possible by the collaboration among Province of Ravenna, Port Authority of Ravenna, Ravenna Passenger Terminal and Tozzi Nord (who donated the experimental small wind turbine) and also by a co-financing of the European Project Powered, an Adriatic IPA cross-border program.
The plant, which is connected to an anemometer, in a year has collected data on the strength of the wind that have been stored on a computer and processed by a software developed by Tozzi Nord (here the whole document file).
This post is also available in: Italian