The Province of Ravenna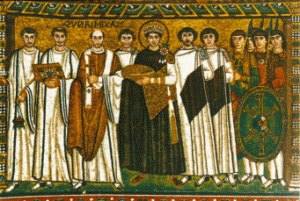 The Province of Ravenna is located in the North-East of Italy, in the Emilia-Romagna Region. It counts more than 350.000 inhabitants distributed in 19 Municipalities characterised by outstanding and diversified landscape, from the hilly inland up to the plain coastal area. The Province of Ravenna forms the northern part of Romagna where some stretches of the Reno River and the Comacchio marshland, mark the dividing line with the Province of Ferrara to the North. It borders with the province of Bologna to the west and those of Forlì-Cesena and Florence to the South.
The coastal strip is a low-lying coastline featuring exceptional wetlands and represents the southern part of the Po Delta Park. The Ravenna portion of Apennines is characterised by rolling hills "sparkled with" medieval villages perfectly preserved, and the protected area Parco della Vena del Gesso Romagnola.
In this diversified landscape, the bicycle and cycling have been and remain a great social phenomenon (where would the great army of labourers have been without bicycles?), a custom that is first cultural and than sporting. For this reason cycling mobility is one of the core elements of the politics of sustainable mobility of the Province of Ravenna for quality of life, air and environment reasons. Since the end of '80s the Province is carrying out a programme of road safety also with the creation of safe cycling ways created next to the roads. Nowadays the Province territory counts about 26 km of cycling routes allowing citizens and tourists to visit both cultural and natural sites, and move for instance from the city of art of Ravenna up to the city of Cervia to enjoy the seaside and the salt works, a protected area belonging to the Po Delta Park .
Art and culture in the province and in particular in the city of Ravenna have more than a few monuments of great consistency. Ravenna has antique origins and a glorious past having been three times the capital: of the Eastern Roman Empire, the Roman-Barbarian kingdom of Teodorico, and finally, the seat of power to Byzantium in the West through the Exarchate. The city is a real treasure trove representing some the high points in the history of art, whose monuments San Vitale and the Mausoleum of Galla Placidia are included in the list of UNESCO World Heritage sites and hold the richest heritage of mosaics dating from the fifth and sixth centuries.
More information about the attractions of the Province of Ravenna can be found here http://ravennaintorno.provincia.ra.it/